Kocham podróżować i zwiedzać ciekawe miejsca, ale pakowanie i rozpakowywanie walizek doprowadza mnie czasami do szaleństwa natomiast bałagan i chaos w walizce powodują, że mam ochotę eksplodować. Dlatego zawsze jestem otwarta na nowości, które ułatwią mi organizację moich rzeczy w podróży oraz zapobiegną niemiłym
niespodziankom.
I love to travel and visit interesting places, but packing and unpacking suitcases sometimes drives me crazy That's why I'm always open to new ideas that will help me organize my things on the go and to prevent an unpleasant surprises.
Wrap& slippers set
Niezwykle przydatny podczas długich podróży samolotem lub autokarem. Zamiast kisić się w naszych butach możemy ubrać przewiewne kapciuszki, założyć maskę na oczy i przykryć się cieńkim kocykiem. Nawet nie zauważymy jak dotrzemy do celu.
Extremely useful during long journeys by plane or by bus. Instead of sitting in our shoes we wear comfy slippers, put a mask on my eyes and cover up with a thin blanket. Not even notice how we get to our destination.
Travel Makeup Set
Przydatny w podrózy i na co dzień. Wszystko, albo zdecydowana większość tego co potrzebujesz zamknięte w jednym małym pudełeczku. Największy wybór takich zestawów znajdziemy na lotnisku gdzie ceny są wyjątkowo konkurencyjne. Mój ulubiony to chanel, ale wszystko zależy od upodobań i potrzeb.
Useful for travel and every day. All, or the vast majority of what you need in one small closed box. The largest selection of such kits can be found on the airports where prices are extremely competitive. My favorite is Chanel, but it all depends on your taste and needs.
Document pouch & secret money pocket
Podróż z saszetką na szyi wydaje się być jedną z bardziej wieśniackich rzeczy jaką można sobie wyobrazić, ale ma również bardzo dużo zalet, które mnie jak najbardziej przekonują zwłaszcza pod czas bardzo dalekich wypraw. Nie tylko chroni nas przed kradzieżą pieniędzy i dokumentów, ale ułątwia dostęp do nich i zapobiega sytułacjom w stylu "gdzie to ja włożyłam mój paszport"
Traveling with a pouch around his neck seems to be one of the most lame things you can imagine,but it also has many advantages that impress me a lot, especially in time of very long trips. Not only protects us from the theft of money and Document, but it makes it easier to access and prevents situations like "where have i packed my passport"...
cosmetic case with compartments
Ja taką kosmetyczkę kupiłam kiedyś w sephorze i jest to absolutny hit. kosmetyki i akcesoria można ładnie posegregować w kilku kieszonkach, co umożliwia łatwy dostęp do nich i porządek w bagażu.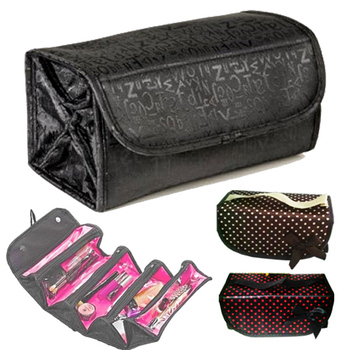 I once bought such a beautician at Sephora and it is an absolute hit. Cosmetics and accessories can be nicely segregated in a few pockets, what allows easy access to them.
jewellery case
Zwolenniczką wożenia ze sobą większej ilości biżuterii zdecydowanie polecam to małe cudo, dzięki któremu zapomnicie o poplątanych łańcuszkach i branzoletkch.
Supporter of bringing a more jewelry would definitely recommend this little wonder, so that you forget about tangled chains and branzoletkch.
travel sacks
Jakiś czas temu nabyłam te urocze, bawełniane woreczki w sklepie internetowym i zdecydowanie jest to jeden z bardziej stylowych akcesoriów podróżnych. W zasadzie nie jest to coś czego nie można by było zastąpić zwykłą plastikową reklamówką, ale nie ukrywam, że segregacja bielizny i skarpetek odbywa się w tej chwili w wielkim stylu :)
Some time ago I bought these cute, cotton bags online, and this is definitely one of the most stylish travel accessories. In fact, this is not something that could not be replaced by a simple plastic bag, but underwear and socks segregation was never as stylish as now :)
Bra Case
Narzekałyście kiedyś na odkształcone miseczki lub powyginane fiszbiny ?
Bra Case for traveling. Seriously, where has this been all my life?
GoGirl
A to kompletna nowość. Wykonany z bakterioodpornego silikonu medycznego ...lejek? Ten prosty gadżget ma ułatwić Panią sikanie w męskim stylu wszędzie tam gdzie brakuje toalet lub gdzie z jednej toalety kożysta zawrotnie duża ilość osób. Dziewczęta nie muszą się juz martwić o brak higieny w centrach handlowych, toaletach parkingowych czy klubach.
What a handy gadget for females who go trekking, camping, hiking & there are no toilets around.
Simply put, GoGirl is the way to stand up to crowded, disgusting, distant or non-existent bathrooms. It's a female urination device (sometimes called a FUD) that allows you to urinate while standing up. It's neat. It's discreet. It's hygienic.